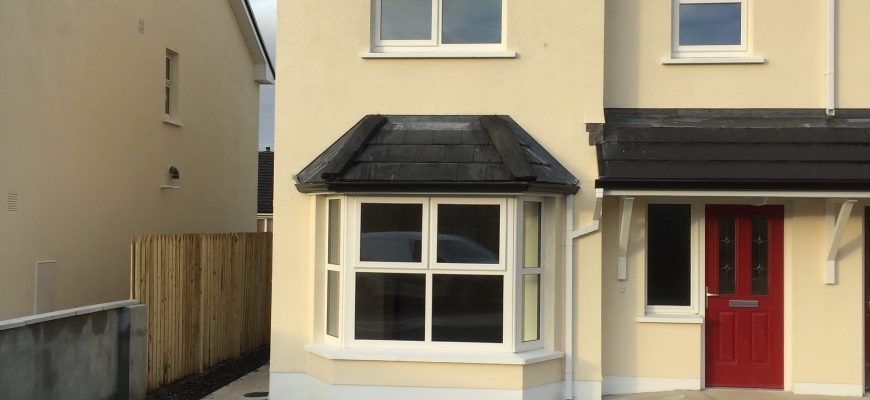 Due to the extremely successful launch of the final phase of the Bru Na Habhainn Housing Development (Phase 2) in Collooney, Co. Sligo earlier this year, Tom Mc Nicholas Builders LTD have on offer the final two Four Bedroom Semi-Detached Houses for sale.
As well as the superior finish and architectural detail, these homes are built for the future having a BER rating of A3. This rating is achieved by using one of the most energy efficient renewable Heating systems available as well as using the best quality insulation, this all ensures a cosy home and at the same time a much lower energy bill. The air to water heat pump system provides all heating and hot water requirements, whilst eliminating the need for Kerosene. The following are just some of the features:
Triple Glazed A-rated uPVC Windows and Doors;
Samsung Mono Heat Pump 5kW 1ph Gen 5 System;
Superb air tightness permeability results of ≤6;
130mm full fill cavity bead insulation;
100mm Xtratherm floor insulation under concrete screed floor finish;
300mm deep rockwool attic insulation;
As an added bonus to first time buyers these homes are included in the governments Help to Buy Incentive Scheme. This incentive provides for a refund of Income Tax and Deposit Interest Retention Tax (DIRT) paid over the previous four tax years to first-time buyers who purchase a new house to live in as their home.
The Bru Na Habahinn development is superbly located in Collooney Village, only ten minutes' drive from Sligo Town with great public transport and amenities all at your doorstep.
Enquiries to John Leydon & Sons Auctioneers on 071 9167655 or 086 2538254.
For more information about Tom Mc Nicholas Builders LTD check our website: www.tmnbuilders.ie/